Leicester
[back] Smallpox
"Sewers introduced into Leicester, 1851. Sewer ventilation introduced,1881."
[The Leicester 'experiment' started around 1876, which you can see in graph form here, from the well documented book by J.T Biggs, that was published by the The National Anti-Vaccination League. Leicester by itself killed vaccination stone dead by showing conclusively that sanitation was not only the main cause of smallpox and its dangers, but that it was more effective compared to vaccination, by a long street, and that vaccination was dangerous: 2,000 less babies died under 5 in their non-vaccinating years compared to their high vaccinating years (one source, no doubt, for the NAVL figure of 25,000 baby vaccine deaths in 1880 see). Nowadays the Allopaths great effort to vaccinate everyone, compulsory vaccination being the pinnacle of that, is mostly to hide embarrassing places like Leicester that would show up vaccination as ineffective and dangerous. See: Main reason for high (and compulsory) vaccination drive Dan Olmsted.]
"The town of Leicester rejected vaccination in favour of sanitation. Her experience during the past fifty years makes nonsense of the claims of the pro-vaccinists. When her population was thoroughly vaccinated she suffered severely from smallpox. As vaccination declined to one per cent of the infants born, smallpox disappeared altogether."---- Lilly Loat [Book 1951] The Truth About Vaccination and Immunization

See: Sanitation
Quotes
Leicester
Sanitation vs. Vaccination
"The Leicester Method" by J.T. Biggs
J.T. Biggs banner quotes
Articles
Leicester (and Army & Navy) by Alfred Wallace
HOW LEICESTER DEALS WITH VARIOLOUS OUTBREAKS--William Tebb
Book
[1912 Book] LEICESTER: SANITATION versus VACCINATION BY J.T. BIGGS J.P.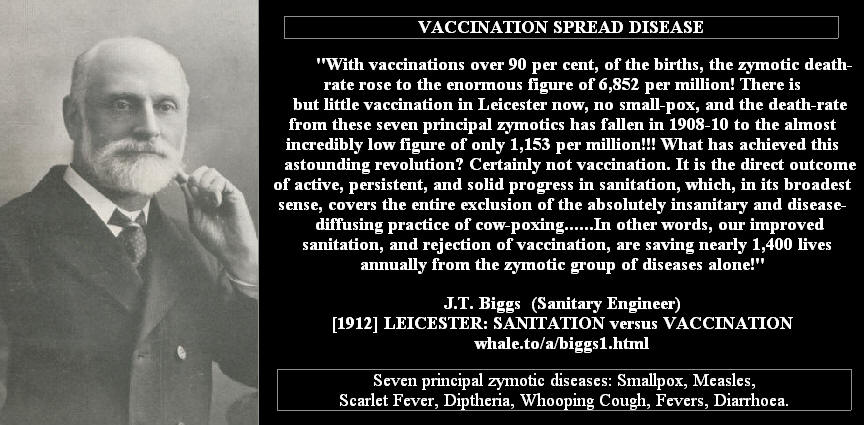 J.T. Biggs Smallpox spread by vaccine quotes (vaccine damage) Vaccine "lymph" and disease spread


J.T. Biggs Disease Protection Racket


J.T. Biggs Hiding smallpox vaccine deaths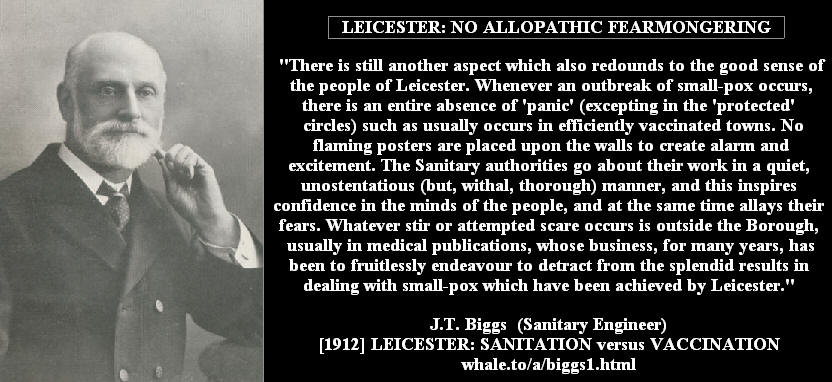 J.T. Biggs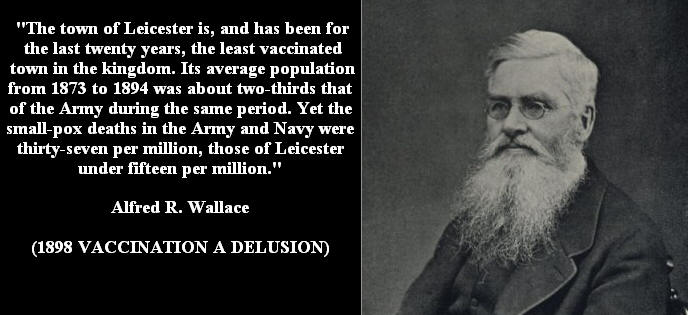 Wallace, LL.D. (1889/1898, Alfred R.


J.T. Biggs Smallpox spread by vaccine (vaccine damage) quotes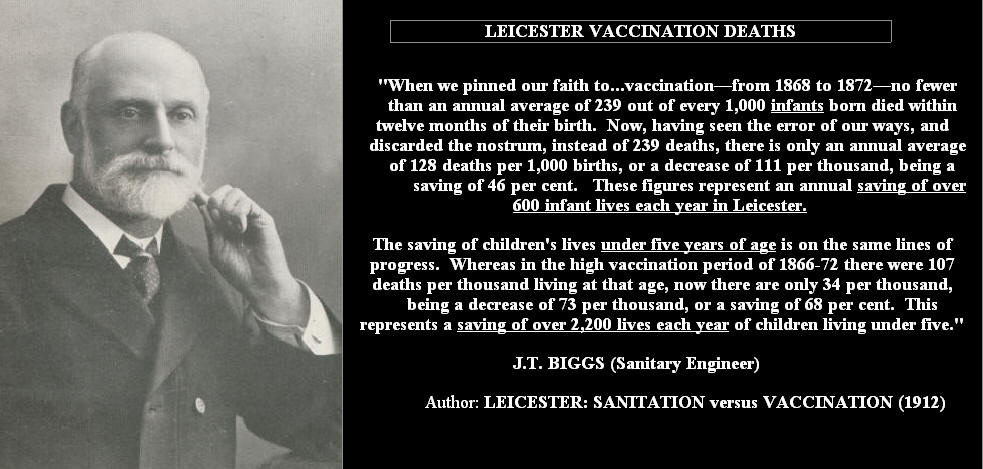 J.T. Biggs


J.T. Biggs