Iatrogenic death and disease
Allopathy Diseases
"In truth, the benefits accrue to the physician, while the patient runs the risks."—Harris Coulter (Divided Legacy Vol 3)
[Allopathy is far and away the leading cause of death and disease today. USA Iatrogenic deaths at 783,936. Over 4 million addicted (Pharma drugs) to just the Benzodiazepines, with 3.6 million kids on prescription amphetamines. Vaccination is the leading cause of child death and Disease, being the main cause of autism, asthma, diabetes, and so on. The end result of Psychopathic Allopathic monopoly medicine. The suppression of disease causes and non-allopathic medicine such as Vitamin C, coupled with the use of Junk Food such as baby milk, and poisons such as Fluoride, covertly encouraged by Allopathy Inc, has led millions into AIDS, Alzheimer's, arthritis, heart disease, toxic chemotherapy and to die from Vitamin C curable infections.]
USA's 4th Leading Cause of Death – Pharma's Drugs
[pdf May 2012] Anticoagulants the Leading Reported Drug Risk in 2011 With an estimated 2 to 4 million serious injuries each year, drug therapy stands as one of the most significant perils to health resulting from human activity.
Iatrogenic Disease: The 3rd Most Fatal Disease in the USA by Ronald Grisanti D.C., D.A.B.C.O.,M.S.
TOXIC OVERLOAD: BLOOD DISORDERS AND CANCERS RESULTING FROM EXPOSURE TO DRUGS, CHEMICALS AND RADIATION by Edward Priestley
[2009] Drug-Induced Dementia: a perfect crime by MD Grace E. Jackson
1) the causal connection between antipsychotic drugs and Alzheimer's disease
2) the evidentiary link between stimulants (ADHD drugs) and shrinkage of the brain
3) the limitations of the neurogenesis theory of antidepressant action (in fact, Dr. Jackson discusses the research evidence which shows that antidepressants damage the hippocampus - the learning and memory center of the brain)
4) the evidence for mood stabilizers as neurodegenerative, rather than neuroprotective agents
5) the reasons why existing drug treatments are particularly hazardous for survivors of traumatic brain injury (i.e., soldiers with head injuries)
Doctors:
A) The number of physicians in the U.S. is 700,000.


B) Accidental deaths caused by Physicians per year are 120,000.
C) Accidental deaths per physician is 0.171.
Statistics courtesy of U.S. Dept. of Health Human services and is a conservative number.
[2008] America's First Amphetamine Epidemic 1929-1971 By Nicolas Rasmussen The latest national surveys show that about 3 million Americans used amphetamine- type stimulants nonmedically in the past year, 600,000 in the past week, and that 250,000 to 350,000 are addicted.
[2007] ARE MOST DISEASES CAUSED BY THE MEDICAL SYSTEM? By Walter Last
Death by Doctoring ----Steven Ransom
GANGSTERS IN MEDICINE By Thomas Smith
Death by Medicine----Carolyn Dean, MD, ND, Martin Feldman, MD, Gary Null, PhD, Debora Rasio, MD (2003/4)
"A doctor can bury his mistakes but an architect can only advise his clients to plant vines." - Frank Lloyd Wright (1868-1959)
[2009 nov] 20 Years of USA Doctors' Malpractice Data Closed To Public More than 20 years ago Congress created a federal database to track incompetent and unprofessional health-care practitioners. The database, compiled by the U.S. Department of Health and Human Services, includes some 460,000 records of malpractice lawsuits whose judgments total $69.7 billion. It includes information on 23,788 patient deaths, 8,100 major permanent injuries and 3,896 cases that resulted in quadriplegics, brain damage or lifelong care. Much of the data is closed to the public. The doctors' names remain hidden, preventing patients from using the data to look up information on their practitioner. "If the data bank is reliable enough for state medical boards to use on a daily basis, why should it be considered too incomplete for curious patients?" asked Sidney Wolfe, a physician and director of the Health Research Group for Public Citizen, a nonprofit consumer advocacy organization out of Washington, D.C.
[June 2006] Common asthma inhalers cause up to 80 percent of asthma-related deaths,
[Media Oct 2004] US officials 'knew of Vioxx threat'
[Media Oct 2004, sodium valproate] PARENTS SUE MAKERS OF 'THE NEW THALIDOMIDE'
[Media 2004] Medical blunders could leave the NHS with a £6bn bill
[Media UK, Feb 2003] Doctor's 32% error rate 'not unusual', says inquiry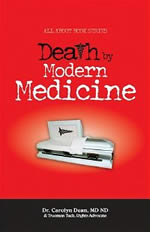 [Media Jan 2003] Surgery Tools Left in 1,500 People a Year
[July 2002] Report: Thousands die needlessly from hospital infections
Iatrogenic Illness: The Downside of Modern Medicine
A White Paper by Gary Null, PhD & Debora Rasio, MD
http://www.garynull.com/Documents/Iatrogenic/index.htm
International Coalition for Drug Awareness http://www.drugawareness.org/home.html
ADVERSE DRUG REACTIONS MAY CAUSE OVER 100,000 DEATHS AMONG HOSPITALIZED PATIENTS EACH YEAR
A 1995 study, Quality in Australian Healthcare, indicated as many as 50,000 patients were injured and 18,000 died each year due to errors in hospitals. Hospital fatalities blamed on staff
American Iatrogenic Association http://www2.iatrogenic.org/iatrogenic/
Only 10-15% of medical interventions are evidence based

MEDICAL INTERVENTION HIT OR MYTH? By Dr. Ronald S. Laura
CROSS CONTAMINATION OF PATIENTS THROUGH NON STERILE FLEX SIGMOIDOSCOPY http://www.vindicators.com/
"The primary cause of Alzheimer's is "iatrogenic" disease caused by chronic low level mercurial poisoning from amalgam dental fillings."---Tom Warren
Vaccines Leading Cause Of Infant Deaths--Stephen Simac