GULF WAR SYNDROME
The Vaccines Anthrax vaccine Poisoning your own troops
"I had no idea about the military. The military situation in America is a disaster. It is inhumane. It is horrific, barbaric. There are no other words for what is going on in the military. We're seeing damage, after damage, after damage. Young, beautiful kids want to fight for America, unable to get out, being used as human pin cushions. Horrific stories coming from there." [2016 June] VaXxed Becomes a Cautionary Tale Of Vaccine Injury for All Americans to Hear By Anne Dachel
[This is a covert attack on the military using
Depleted Uranium
and vaccines, notably
Anthrax

vaccine
.]
See: Squalene Anthrax vaccine Depleted Uranium Human genocide More KBR-Halliburton Fraud: Poisoning US Troops by SUE ARRIGO, MD
[vid] More soldiers lost to suicide than battle. The #1 censored story of 2011


[Aug 2008] Up to 1-in-50 Troops Seriously Injured... By Vaccines?--David Kirby
Peter Kawaja
Leuren Moret
Gary Matsumoto
Meryl Nass MD
Anthrax vaccine
Quotes
Poisoning your own troops
Executive Order 13139
Military and Biodefense Vaccine Project of the National Vaccine Information Center ( NVIC )


Suicide and pharma drugs
"Gulf War Syndrome" psychiatrist Simon Wessely,
Video

Vaxxed: From Cover-up to Catastrophe VaxXed Stories: Alabama Military Whistleblower https://youtu.be/TYWXzTscjc8
Gulf War Syndrome-Killing Our Own by Dr. Null
Gulf War vaccines videos
Gulf War Syndrome: Killing Our Own (Part 1)
The Gulf War Syndrome Plot, Part 2: The US Government's Conspiracy of Silence and Obstruction Against Gulf War Veterans
[2014 Jan] Gulf War Illness Tied to Cipro Antibiotics
[2014 May] Gulf jabs triumph for sick squaddie - Big step forward for Alex Izzet in vaccine battle Former Royal Engineer Alex Izzet, 40, has secured legal aid and will now try to gain access to secret Government documents....Alex blames the vaccines, particularly anthrax and whooping cough, for his stomach pains, osteoporosis, nerve problems, depression and fatigue.
[2012 pdf] Human Enhancement and Experimental Research in the Military by EFTHIMIOS PARASIDIS For over a century the U.S. military has conducted and sponsored cutting-edge medical and technological research. While such projects have often resulted in transformative innovations, in a number of instances, researchers have deliberately violated legal requirements and/or ethical norms governing research with human subjects. This Article explores these matters by discussing the history of misfeasance in military research and examining contemporary military endeavors that aim to exploit biomedical advancements.
[2012 June] Proof Armed Forces are Given Untested and Experimental Vaccines By Christina England From these documents we can clearly see that the armed forces are being given untested, unsafe vaccinations in what appears to be vaccination trials. What other untested, dangerous vaccinations are being forced on to these courageous men and women, and could these vaccinations contribute to the many soldiers suffering from the Gulf War Syndrome that we see so much of today?
[2009 Dec] Special Report: Gulf War Veterans, A New Film Is Coming!
Blinded by the Science: Research Advisory Committee Report Includes Data from 9 Studies of Anthrax Vaccine and Gulf Illnesses
[Oct 2007] 73,000 Iraq war veterans dead Gulf War veterans who have filed "Undiagnosed Illness" (UDX) claims is 14,874 and the total number of disability claims filed is 1,620,906 ...Thirty-six percent of combat veterans have filed disability claims.
[October 07, 2006 Gulf War Syndrome ] Common Denominator Experimental Vaccines by Richard G. Shuster
[Jan 2003] GULF WAR ILLNESS SHOCKER
159,238 US Gulf War I Casualties
[Media Aug 2004] THE TINY VICTIMS OF DESERT STORM
Diana Buckland. Global Recognition Campaign/Multiple Chemical Sensitivity/chemically induced illnesses, diseases & injury affecting civilians & military personnel www.mcs-global.org
[June 22, 2006] Myocarditis death in soldier may have been caused by vaccines--DOD press release
Meryl Nass, MD: Please note that CDC found a much higher rate of myocarditis in smallpox vaccine recipients than did DOD: 1 in 1,725, according to Morbidity and Mortality Weekly Report put out by CDC. In a vaccine trial of smallpox vaccines conducted by Acambis the rate of myocarditis was 1 in 973. A 1978 study in Finnish military recruits found a much higher rate using looser criteria (1 in 29).
If DOD had cases occurring at the same rate, they should have had 580 cases in 1 million vaccine recipients, not 120. However, DOD likely had even more cases of myocarditis than 580, since it is believed that people who have never before received the vaccine are at higher risk of complications than those previously vaccinated. Nearly all those who were vaccinated through CDC had been vaccinated in childhood. Relatively few military servicemembers have been previously vaccinated.
Claiming that no previous smallpox recipients died with myocarditis is also blatantly untrue. Twenty-two year old Rachel Lacy died in early 2003, one month after receiving five vaccines in one day (including smallpox and anthrax) and her autopsy demonstrated myocarditis. Two panels asked to evaluate her death for DOD agreed her death was probably vaccine-related. I wrote something about earlier inaccurate DOD statements about smallpox vaccine-related myocarditis and death in 2003:
The Resnick Interview with Peter Kawaja and Ex-NSA Agent Joe Jordan
Gulf War Vaccines
[Media Sept 2005 Anthrax vaccine] Deadly doses
[Inquiry into Gulf War illnesses - London, July - September 2004] Symptoms and effects on veterans
[Inquiry into Gulf War illnesses - London, July - September 2004] Vaccinations, organophosphates, NAPS, burnt-oil smoke, blowing up of Iraqi chemical weapon depots
[Inquiry into Gulf War illnesses - London, July - September 2004] The medical profession
[Media Aug 2004] Top-selling author says flawed vaccinations caused disease. Scientist blasts MoD over Gulf War Syndrome
[Media Aug 11, 2004] Gulf war vaccine still a problem, leading scientist tells inquiry
[Media July 2004] MoD gags Gulf war research
[Mar 7 2004] MoD REPORT ADMITS 'TRIALS' OF VACCINE
[Media UK, May 2003--Osteoporosis] Soldier hails Gulf case win
[Media UK, April 2003] GULF WAR JABS 'LIES' BY HOON
[Nov 2002] NEW BOOK- About the Gulf War and the Problems
GULF WAR SYNDROME Biological Black Magic by David G. Guyatt
Testimony of Howard B. Urnovitz, Ph.D. (1/24/02)
Testimony of Howard B. Urnovitz, Ph.D. (2/2/00)
TESTIMONY OF DR. HOWARD B. URNOVITZ August 3, 1999 COMMITTEE ON GOVERNMENT REFORM AND OVERSIGHT
Dr Urnovitz interview Dec 1999 CFS Radio
A Lecture By Captain Joyce Riley in Houston, Texas on January 15, 1996
The Gulf Bio War: How a New AIDS-like Plague Threatens Our Armed Forces by Alan R. Cantwell, Jr., M.D.
[Media July 2001] Illegal vaccine link to Gulf war syndrome
Possible Link Between the Administration of Multiple Thimerosal Containing Vaccines, Stress Induced Increases in Blood-Brain Barrier Permeability and Gulf War Syndrome http://www.altcorp.com/gulfwar.htm
Role of bioengineering in CFS, GWS & AIDS--Dr Mazlen
[Media] Vaccine cocktail and stress 'doomed Gulf War heroes (May 2000)
Statement on anthrax vaccine safety
STATEMENT OF SONNIE G. BATES, MAJOR, USAF (Anthrax vaccine--Burton hearings)
Statement by Major Thomas L. Rempfer
Media 8/99: Secret vaccine sparks new fear for Gulf vets
Anthrax Vaccine Links and Information http://www.dallasnw.quik.com/cyberella/index.htm
VACCINES & AIDS: Interview of Dr Eva Snead by Laura Lee on September 19th 1992.
Anthrax vaccine, possible dangers http://www.nccn.net/~wwithin/anthrax4.htm#TOP
Experimental vaccine and Gulf War syndrome http://www.new-atlantean.com/global/ith_gulf.html
http://www.new-atlantean.com/global/secret.html
Objection to Gulf War vaccine was overridden http://www.ohio.com/bj/news/ohio/docs/029677.htm
Anthrax vaccine: Cure or Conspiracy? http://www.gulfwarvets.com/vaccine.htm
Vaccine guinea pigs http://www.gulfwarvets.com/winds.htm
http://home.sprynet.com/sprynet/Gyrene/gulfwar.htm
Gulf War Syndrome Pg.6 http://pathfinder.com/Life/essay/gulfwar/gulf06.html
GWS Link To Innoculations found http://www.sonic.net/daltons/melissa/gws5.html
Health threat from bioweapons http://physlab.web2010.com/bio/bw.htm
Germ Warfare against America http://physlab.web2010.com/bio/mcv.htm#Top
Gulf War Forced Inoculations http://www.all-natural.com/gwi-1.html
Gary Null http://www.garynull.com/documents/GulfWarLegacy2.htm
Bosnia:
Army misled troops http://www.cleveland.com/news/pdnews/frontpage/oabosnia.htm
Experimental vaccine http://home.sprynet.com/sprynet/Gyrene/bosnia.htm
Department of Defense, Navy, and national immunization policies and practice. http://www-nehc.med.navy.mil/prevmed/immun/imunmain.htm

GULF WAR SYNDROME
http://www.new-atlantean.com/global/ith_gulf.html
http://www.immed.org/
http://members.aol.com/rgm1/private/nicolson.htm
http://www.all-natural.com/gwi-1.html
http://www.trufax.org/menu/gulf.html
http://www.techmgmt.com/restore/gulfwarp.htm
http://www.insigniausa.com/gulflink.htm
http://www.dtic.mil/gulflink/
Mission Impossible http://www.dorway.com/possible.html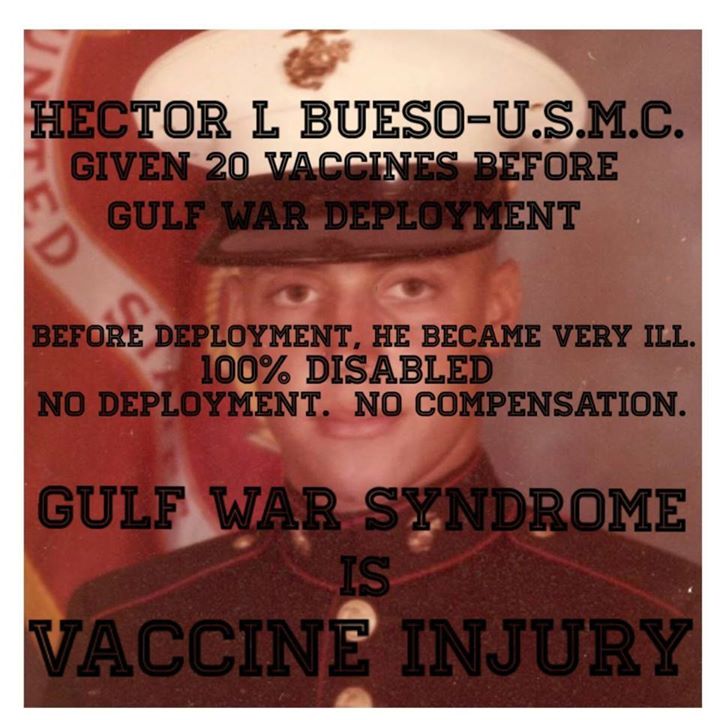 [Vaccines]