Wyeth Lederle
Wyeth Lederle Vaccines is a business unit of Wyeth-Ayerst Laboratories, which is a division of American Home Products Corporation.
http://www.vaccineworld.com/ http://www.wyeth.co.uk/
[2009 oct] Judge seals damage award against Wyeth A Philadelphia jury yesterday awarded punitive damages to an Illinois woman who said Wyeth's Prempro hormone replacement therapy caused her breast cancer.
[August 04, 2008] Every Child By Two: A Front Group for Wyeth By J.B. Handley
[May 2006] Whistleblower Mark Livingston Battles Wyeth Pharmaceuticals
[Jan 2005] Wyeth whistleblower Mark Livingston describes problems at Prevnar vaccine plant
Lawsuit Alleges Irregularities With (Prevnar) Vaccine
Withdrawn vaccines:
Rotavirus
Vaccines:
Orimune OPV
Prevnar (pneumococcal)
Meningitec (meningitis C)
TETRAMUNE (DTPH) NZ
HibTITER (HIB)
Begrivac (influenza)
Pnu-Imune (pneumococcus)
Other drugs
Methotrexate
[Media Oct 2006. HRT--Prempro ] US jury says Wyeth drug caused woman's breast cancer
Media stories:
[2009 May] Wyeth's Menopause Hormones Increase Risk of Lung Cancer Deaths More than 5,000 lawsuits have been filed against Wyeth, alleging its hormones caused cancer.
Wyeth May Leave MedImmune Holding the FluMist Bag
[Media March 2004] US FDA says Wyeth made false claims about Effexor
[Media March 2004] Wyeth Announces Discontinuation of Operations in Marietta, PA
FDA seizes Wyeth (vaccines) drugs
[Media Feb 2000] American Home Targeted in Wrongful Death Suit Over Vaccine Use (Orimune, oral polio vaccine)
American Home Products maker of Rotavirus vaccine and NEW Prevnar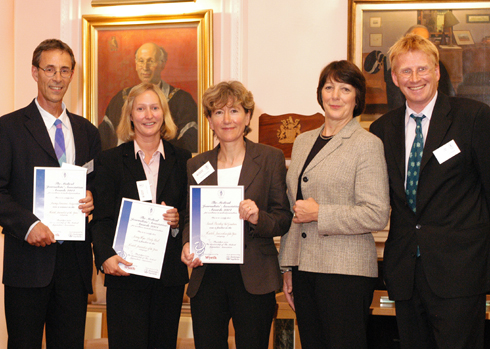 Great picture of 4 important media Pharma shills--from The Independent, The Guardian, Daily Mail and Private Eye. Vaccine salespeople of the year!]
MJA AWARDS 2004 (L to R) Jeremy Laurance, The Independent; Jenny Hope, Daily Mail; Sarah Boseley, The Guardian; Gill Markham, Corporate Affairs Director, Wyeth; Dr Phil Hammond.
Writer and broadcaster Dr Phil Hammond presented the MJA Awards at a ceremony at the Royal College of General Practitioners on July 7th.
Pharmaceutical company Boehringer Ingelheim sponsored this year's presentation ceremony and the Freelance Journalist of the Year and the Medical Charity categories. The Medical Journalist of the Year and Medical Publication awards were sponsored by Pfizer UK. The Health Journalist of the Year was sponsored by Wyeth. http://www.mja-uk.org