Gardasil media and adverse reactions articles
[back] Gardasil
[A growing list to go with all the other 'safe' ones eg MMR.]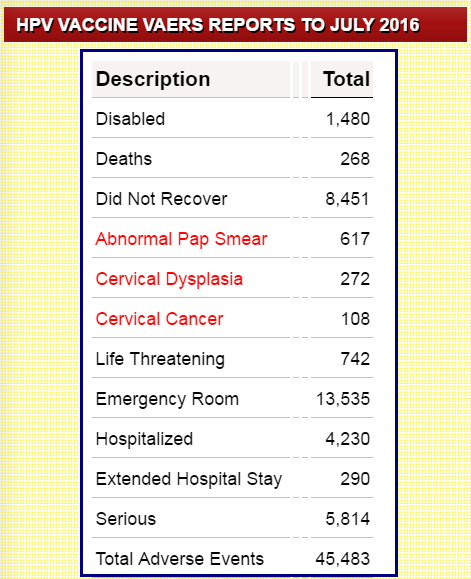 http://sanevax.org
VAXXED Stories: Colton in Utah (HPV vax)
[2017 April] Schoolgirl (Chloe Brown), 16, says she has been left wheelchair-bound after being given the controversial HPV jab
Chloe's Chronicals of Chronic Illness-My HPV Vaccine Injury Journey.
[2017 March. Cerevix] Teenage dancer, 18, is left paralysed from the waist down claims doctors have blamed it on the HPV cervical cancer jab she had six years ago
[2017 Feb] HPV Vaccine Paralyzes Little Girl, Leaves Family Fighting For Survival Mia Blesky
[2017 Jan] College Student (Erin Crawford) Gets HPV Cancer After Receiving Gardasil Vaccine
[2016 Dec] Girl, 16, is left paralysed in 3 limbs and in hospital on a drip after having the HPV vaccine, her parents claim (Ruby Shallom, Lucy Rebbeck) This has totally changed my life. I'm in pain all the time. If I hadn't have had it, I wouldn't be like this
[2016 July] HPV Vaccination Controversy in Japan, Rates Plummet to 1%
[2016 July] Teenager is hospitalised and sedated EVERY time she has her period after HPV jab 'made her vomit up to 10 times a day'
[2015 Dec] Norway: Force-vaccinated with Gardasil No doctor will listen. They say that Caroline needs mental therapy for her sorrow after my mother's death. She has had no more tests or treatment because no one believes us. Now she feels pain in her whole body and just wants to sleep. She feels ill all the time. She hardly manages to do anything, has poor memory, heart palpitations, stabbing pain in her chest, and sometimes has breathing difficulties. She often has headaches and now has a poor appetite. She gets tired just by going to the toilet. She can't walk or cycle any particular distance – her legs go weak and lose feeling. She is bedridden most of the time......The nurse who administered Gardasil against my daughter's will came to our home and contacted us several times. She told us they were extremely afraid that we could scare other children about taking the vaccine and that we MUST NOT mention the vaccine in connection with our daughter being ill.
[2015 Dec. Norway] Gardasil: Hanging on to Hope Maria (18) has been seriously ill for five years after receiving the HPV vaccine. When she was 12 years old the Norwegian girl, Maria Lysaker Wennersberg, received the HPV vaccine at school. In April 2015 she was diagnosed with POTS which is suspected to be a serious side effect from the vaccine. Most of the time the 18-year-old from Mysen, Norway is bedridden. Sometimes she faints daily. She has lost five important years of her adolescent life and has not been able to attend school for the past four and a half years. Maria, who was formerly active in sports and played baseball, soccer and practiced skiing in winter, now has to be pushed in a wheelchair from her bed into the living room. On the table is a delicious spread of sandwiches her mom, Rita Lysaker, has made. Maria eats nothing. Most types of food, including sweet and fatty food make her nauseous. She struggles enormously with her concentration. 'But the worst are the fainting spells. I can't get up from sitting to a standing position without fainting. My pulse accelerates from 50 to 150 in a snap. I can often feel it coming in advance. It begins with blurred vision and then suddenly everything goes black.' says the 18-year-old.
[2015 Dec] HPV vaccine case study: 'Shannon is ruined and we're filled with guilt for giving consent' - mum
[2015 Nov. Eire] Worried parents claim daughters have been seriously injured by cervical cancer vaccine
[2015 Nov] Court told of 'horrendous adverse effects' of HPV vaccine Fiona Kirby claims her daughter needs permanent care after receiving Gardasil
[2015 Nov. Eire] Mother: Gardasil disabled my child Fiona Kirby, Kilbeggan, Co Westmeath, is a member of a new parents' support group Reaction and Effects of Gardasil Resulting in Extreme Trauma (Regret) for those who claim their teenage girls became ill after getting the vaccine. Ms Kirby, a nurse, is seeking a High Court order looking for the withdrawal of the license for the Gardasil HPV vaccine which is currently being offered to 11- to 16-year-old girls as a possible cervical cancer preventative.
[2015 Nov] "HPV Vaccine Has Done This to My Child" "I've just carried Briar out of the bath as her legs keep collapsing, this is the amount of pain she is in after pain killers, that her pain feels like a 'big knife' in her legs, just over a year ago she could do all this, have a bath, play sport, just basically have a life, then the HPV vaccine happened and she can't do a thing, this is her life and this is the part nobody sees. I didn't want to cause her more pain but I wanted to show what her life is now."
[2015 Oct] Recovering from my Gardasil Nightmare
[2015 Oct] My daughter is suffering after HPV vaccination, says Grantham mum
[2015 Sept] Mums claim HPV vaccine left their daughters having seizures Erin Morgan has suffered almost daily seizures for two years with Erin Egan suffering a seizure on the day she had the jab......She woke her family up during the night having a violent seizure and 'foaming at the mouth' with her eyes rolling back in her head, according to mum Michelle.
[2015 Sept] Behind the Scenes / Cancer vaccine reactions stand out in Japan The survey found that of the 1,739 patients who reported symptoms, the vast majority recovered within one week, but 186 patients had not yet recovered. The symptoms were wide-ranging, including headaches, body pain and convulsions, and over 60 percent of sufferers experienced multiple symptoms. Middle and high school-aged girls were the most affected, hindering their ability to attend classes and hugely impacting their school lives.
[2015 Sept] Is HPV vaccine safe? Hainault mum says daughter's chronic fatigue is linked to cancer drug
[2015 Sept] Did HPV cervical cancer vaccine cause life-changing illnesses in Kent teenagers?
[2015 Aug] Truth and Gardasil: Doctor Discusses Premature Menopause in 16 Year Old After Gardasil Vaccine -
[2015 April] HPV Vaccines: A Danish Documentary
[2015] Gardasil victim (Hasvold Buer)
[2014] What Gardasil did to me: POTS and a Pacemaker
[2014 feb] Four Year Analysis of Adverse Reactions to the Gardasil HPV Vaccine by Lloyd W. Phillips
[2014 May] Gardasil Scandal Brewing in Colombia? now suffers from constant pain throughout her body, muscle weakness, and bleeding from the nose and gums. She has so much pain in her left knee and ankle that she must walk with a cane, and cannot continue her college education.
[2013 April] How Gardasil Changed My Life
[2013 Feb] HPV, tetanus vaccines causes deadly new autoimmune disease known as antiphospholipid syndrome
[2012 Nov] UBC researchers advocate HPV vaccine scrutiny A human papillomavirus (HPV) vaccine may trigger fatal autoimmune or neurological events in some cases, two UBC researchers say. Their findings come as public-health authorities, who maintain that the shots are safe, are urging young women to get vaccinated to prevent cervical cancer.
[2012 Oct] Gardasil Destroys Girl's Ovaries: It Should Have Been Predicted
[2012] Teenage Girl Becomes Infertile after Gardasil Vaccination a 16-year-old Australian girl (has) suffered "premature ovarian failure" after receiving Gardasil. Her ovaries have shut down, her eggs have been destroyed, and she will never be able to have children.
[2012 Oct] Death after quadrivalent human papillomavirus (qHPV) vaccination: Causal or coincidental? a 15-year-old female without a relevant medical history, who developed severe headaches, speech problems, dizziness, weakness, inability to walk, depressed consciousness, confusion, amnesia and vomiting, 14 days after receiving her first qHPV vaccine injection. After the second vaccine booster, her symptoms worsened and she expired 15 days later. Autopsy revealed cerebral oedema and cerebellar herniation indicative of a focally disrupted blood-brain barrier.
[2011] Wrongly injected toddler fights leukaemia A Hamilton toddler who was mistakenly injected with a vaccine to prevent cervical cancer when he was just six weeks old has developed a rare form of leukaemia.
[2011] Father of Gardasil Injured Girl Speaks Where I take my son to therapy there is a 13 yr old girl who just recently became paralyzed from the guardasil shot and her mom has struggled as wwell with dr.'s not wanting to acknowledge that the shot caused it. She was fine before the shot. She had all 3 shots and she couldn't pinpoint it it at the time to the shots but she was having stomach problems right after the first shot and just kept getting weaker up until the last shot then she became paralyzed. Her mom has had to quit her job to take care of her and her 3 other siblings and she is a single parent so she is having a hard time. It breaks my heart every time I see that young girl come in to therapy in a wheelchair.
[2011 Oct] Class action on cancer vaccine Gardasil A MELBOURNE woman who suffered an auto-immune and neurological attack after being injected with the cervical cancer vaccine Gardasil is leading a class action against its manufacturer. Seven other Victorian women who are considering joining the court case against Merck say they have suffered anaphylaxis and physical breakdowns as a result of the vaccine. One has attributed a miscarriage to the injections. Naomi Snell, 28, said her life was put on hold for more than two years after she lost the ability to walk, battled crippling back and neck pain, and suffered convulsions that started soon after her first injection in July 2008.
[2011 Aug] Girls suffering seizures after cervical cancer jab
[2011 Aug] Indians sitting ducks as drug trials turn fatal For the first time since 2010 when six tribal girls from Gujarat and Andhra Pradesh involved in the clinical trials of anti-cervical cancer HPV vaccine died, the government has admitted that 1,725 persons have lost their lives to drug trials in the last four years.
[2011 Jan] Abortion Stillbirth Events from Gardasil Far Exceed All Other Vaccines
[2011 Jan] H1N1 Vaccine-Relate Miscarriages Eileen Dannemann, President of the National Coalition of Organized Women, speaks with Michael Ostrolenk about the 2,500% increase in H1N1 (Swine Flu) Vaccine related miscarriages. The number of spontaneous abortions reported in the Vaccine Adverse Event Reaction Database (VAERS) increased from 7 in the 2008/2009 flu season to 179 in the 2009/2010 season. In addition only 20 such cases were reported in the 20 year period between 1990 and 2009 and the estimates are that only 15% of these miscarriages are reported. The CDC is seemingly uninterested in this increase. Additional data and information can be found at www.ProgressiveConvergence.com.
[2011 Jan] One More Girl Unveils Truth behind HPV Vaccine Travesty
[2011 Jan] A Gardasil Girl – A Mother Speaks Out
[2010 Dec] HPV Vaccine (Gardasil and Cervarix) VAERS Reports - Injury and Death Continue to Climb
20,575 adverse reactions
352 reports of abnormal pap smears post vaccination
89 reported deaths (plus 5 reports submitted to the FDA obtained by Judicial Watch under the Freedom of Information Act (FOIA) are now missing from VAERS)
[2010 Nov] What is Wrong with the Gardasil Girls? Amy's Story
[2010 Nov] Brother And Sister Stricken Down By Gardasil HPV Vaccine (SANEVAX Victim Of The Week Series)
[2010 Aug] Vaccination against HPV is dangerous and unnecessary
Chivalry is Alive and Well in Gardasil for Boys: But Will Your Boy Be Alive and Well?
[2010 May] Educated parents less likely to let daughters get HPV shots
[2010 May] Trial and Error: Ethical Violations of HPV Vaccination Trials in India The state government has claimed that the deaths of the four girls post-vaccination were unrelated to the 'project'. However, parents of Kudumula Sarita, who died in January 2010, believe that their daughter died due to the vaccination, and not by consuming pesticide, as has been officially declared by the authorities.
[2010 April] HPV Vaccine Kills 16-Year-Old Girl Lawsuit Alleges
[2010 April] Local Parent Files Lawsuit Against Makers Of Gardasil A local mother is suing the makers of Gardasil claiming her daughter suffered from seizures and got brain damage after getting the vaccination....According to Wolf, her daughter needs constant care. She said the refrigerator is locked because Alexis has urges to eat constantly. Wolf said her daughter is narcoleptic during the middle of the day and cannot sleep at night and is in constant pain.
[2010 April] Cancer vaccine programme suspended after 4 girls die
[2010 Feb] Gardasil Warnings Ignored Says Researcher Why, when Dr Harper asked the MoH not to promote Gardasil as a 'cervical cancer vaccine' because, in her words, this is simply not true, did the Ministry of Health ignore her request?
[2010 Jan] New Web Site Launched For Gardasil Victims Another woman says her daughter came down with Hodgkins Lymphoma shortly after receiving a Gardasil shot and says, "I have located approximately 20 others with the same circumstance." As of the summer of 2009, there have been more than 15,000 thousand reported reactions to Gardasil, including more than 3,000 injuries and 48 deaths. Fourteen of the girls who died after getting Gardasil were under the age 16.
[2010 Jan] Website Documents over 300 Gardasil Horror Stories
[2009 Dec] Gardasil linked to MS symptoms
[2009 Dec] More trouble with Gardasil
[2009 Oct] Clarification Re: Gardasil Bombshell "I came away from the talk with the perception that the risk of adverse side effects is so much greater than the risk of cervical cancer, I couldn't help but question why we need the vaccine at all," said Joan Robinson, Assistant Editor at the Population Research Institute.
[2009 Oct] Gardasil Researcher Drops A Bombshell "I came away from the talk with the perception that the risk of adverse side effects is so much greater than the risk of cervical cancer, I couldn't help but question why we need the vaccine at all," said Joan Robinson, Assistant Editor at the Population Research Institute.
[2009 Oct] 2 ALS Cases May Be Linked to Gardasil Vaccine
[word] GARDASIL AND HOW IT HAS AFFECTED THE LIVES OF YOUNG AMERICAN WOMEN AND THEIR FAMILIES
[word. Gardasil] Dr Margaret Hamburg, MD
[2009 Aug] Study Examines Adverse Events Associated With HPV Vaccine
[2009 Aug] Is the HPV Vaccine Safe? more than 12,000 side effects after 23 million doses were distributed. Ninety-four percent of the problems were not serious but 6 percent were, including patients who were hospitalized, permanently disabled or died. There were 32 deaths - one in over 700,000 doses.
[2009 Aug] Gardasil Researcher Speaks Out "One of their teenage daughters became severely ill after her first dose of Gardasil. Dr. Ratner says she'd have been better off getting cervical cancer than the vaccination. "My daughter went from a varsity lacrosse player at Choate to a chronically ill, steroid-dependent patient with autoimmune myofasciitis. I've had to ask myself why I let my eldest of three daughters get an unproven vaccine against a few strains of a nonlethal virus that can be dealt with in more effective ways."
[2009 June] Gardasil. The vaccine that almost killed me, and maybe you.
[2009 June] Call to review cancer vaccine after Germany demands more medical proof
[2009 May] New Zealand schools refuse Gardasil vaccination
[2009 April] Experts say cervical cancer vaccine did not cause Valencia illnesses
[2009 Feb] Chronically ill girl eyes vaccine Ashley Ryburn, 16, sits with her mother, Lisa Holtman, at their home in Arvada. Until a year ago, Ashley was an active, healthy teenager. Since receiving the Gardasil vaccine to prevent cervical cancer, however, Ashley has suffered seizures, headaches, nausea, dizziness and paralysis. For a year this has gone on: four episodes of temporary paralysis. Back spasms so painful Ashley would tell her mom "bye" and stop breathing. Hospitalizations. More 911 calls than Ashley can count. Trip after trip to doctors who couldn't seem to find anything wrong
[2009 March HPV] Vaccine under suspicion For months, more than a dozen doctors have studied why Kenzie Bear has been so sick. The once-healthy, active 15-year-old from Stow suffers from constant nausea, debilitating fatigue, seizures and other symptoms that have left her unable to attend school or play sports.
[2009 Feb] Spain Withdraws HPV Vaccine Gardasil after Two Hospitalizations
[2009 Feb] Gardasil: More Adverse Reactions and Scandals after just one injection a 13-year-old girl was diagnosed with Acute Pancreatitis, spent nearly 100 days in the hospital, and underwent two surgeries to remove Pseudocysts. Her family filed a petition for vaccine compensation seeking damages from the government.
A group of Australian researchers found young women there who received the drug were five to 20 times likelier to suffer rare and severe allergic reactions. In the U.S., a 20-year-old woman suffered a stroke after receiving a second Gardasil injection. Two women overseas died after receiving their Gardasil injections and those deaths followed the deaths of three other young women who died in the U.S. days after Gardasil was administered.
A 14-year-old girl experienced debilitating headaches, fainting spells, and arthritis-like stiffness and became so dizzy she could barely walk, was hospitalized, missed nearly one month of school, and suffered a seizure. Another 13-year-old began showing signs of a degenerative muscle disease after her third Gardasil injection; she is almost completely paralyzed.
Now, the Rocky Mountain News is reporting about a 16-year-old girl who is sick all the time with constant exhaustion and nausea; hair falling out in clumps, ongoing episodes of passing out, numbness, and paralysis; dangerously low blood pressure; and severe back spasms that cause her to stop breathing. The family is convinced the reactions are a result of Gardasil vaccinations, which in her case, were given with a meningitis vaccine.
..........Gardasil accounted for about 20 percent of reactions reported to VAERS in 2007-2008 according to Barbara Loe Fisher, co- founder and president of the National Vaccine Information Center. "To say that … 10,000 reports of reactions, injuries, 30 deaths is all a coincidence is simply not scientifically responsible,"
[2008 Dec] Vaccines Get New Scrutiny A day after the shot, however, Sara complained that she was dizzy and her head was pounding. "Her doctor said the migraine­the first one Sara ever experienced­could have been caused by Gardasil, but it faded the next day, so I didn't worry," says Austin, of Westfield, Mass. But the headache struck again after Sara's second shot­and again after her third. Then, the crushing pain became constant, causing Sara to miss school, quit the soccer team, and spend weekends in bed. Now worried. Might Gardasil be to blame for Sara Austin's severe headaches?
[2008 oct] Study: HPV Vaccine Causes Some To Pass Out in the last two years, more than 450 girls fainted after being vaccinated with Gardasil
[2008 Oct] GIRL GETS SEX JAB AGAINST HER WILL
[2008 Sept] HPV vaccine shows higher rate of anaphylaxis: study The human papilomavirus (HPV) vaccine is up to 20 times more likely than other school-based vaccines to cause anaphylaxis, according to a study released Monday.
[2008 oct] Mother questions HPV vaccine Louise Laplante, mother of a 10-year-old Grade 6 student at St. John School, said her daughter fainted in the hallway about five minutes after she received the vaccination last Thursday. Her classmates witnessed her kicking her legs and groaning briefly after she fainted...."If I would've known," she said, "I wouldn't have got her vaccinated. If other parents know maybe they won't get it for their daughter."
[2008 Sept] Potential Problems With Gardasil Reported NewsCenter 5's Liz Brunner has tracked down a local college athlete, Lauren Wholley, who claims Gardasil has destroyed her health. "My usual symptoms are headaches, dizziness, numbness and tingling in my feet. Just tired," she said. "I'm trying to get back to normal."
[2008 Sept] Mother suspects Gardasil as reason for her daughter's serious reaction Megan Battilana is a healthy teenage girl, so healthy in fact that to her mother's knowledge she hadn't ever received antibiotics in her life. But that all changed when the 15-year-old girl was rushed to Headwaters Health Care Centre after having what her family suspects was an anaphylactic reaction to the widely-promoted cervical cancer vaccine Gardasil.
September 29, 2008 - Catholic school district's HPV vaccine stance addresses all concerns, says Bishop of Calgary - Bishop Henry: "We've probably read much more than Mr. Liepert has." - Catholic News Agency - "To the health minister's contention that the non-vaccination policy was not formed in consultation with the medical community, Bishop Henry explained that 'for months we've been reading everything' from Health Canada, cancer societies, individual doctors, web sites, and other sources. 'We've probably read much more than Mr. Liepert has,' he suggested. According to Bishop Henry, their studies had suggested the HPV vaccine was 'not adequately tested' and could have 'problematic dimensions' and 'disastrous side-effects.' Adverse reactions, including some deaths, have been reportedly linked to the HPV vaccine. In Bishop Henry's view, there is a danger of the vaccination program 'using young girls as guinea pigs.' 'Does this profit anybody other than the drug company?' he wondered. Because of these concerns, Bishop Henry explained, there was 'sufficient ambiguity' for the school district to refuse to participate in the voluntary vaccination."
[Aug 2008] Cancer jab linked to pancreas disease
[July 2008] MY GIRL DIED AS 'GUINEA PIG' FOR GARDASIL Jessica Ericzon
[July 2008] GARDASIL CANCER VACCINE PROBED FOR LINK TO 18 DEATHS
Girls report severe reactions to Gardasil vaccine July 10th, 2008 Katherine Kimzey, 14, talks about suffering seizures, fainting, headaches and stiffness after her second dose of Gardasil. Girls and women around the country have reported severe reactions to the vaccine designed to protect against the human papillomavirus and cervical cancer. http://www.whas11.com/video/index.html?nvid=262209
[June 2008] HPV vaccine's suspected side effects cause concern; CDC says drug is safe Katherine Kimzey started suffering debilitating headaches, fainting spells and arthritis-like stiffness last November. Six weeks later, the 14-year-old Dallas resident became so dizzy she could barely walk. She was hospitalized and missed three weeks of school. Then, she had a seizure. For weeks, she bounced back and forth between specialists and was eventually diagnosed with epilepsy.
[Age of Autism] Jenny Tetlock passed away on Sunday. Her neurologists cited an unusual form of childhood ALS. Others point to Gardasil. Our sincere condolences to her family whose blog is HERE.
[July 2008] Is HPV Vaccine to Blame for a Teen's Paralysis? About a month after being vaccinated against the cervical cancer-causing HPV virus, 13-year-old Jenny Tetlock missed the lowest hurdle in gym class, the first hint of the degenerative muscle disease that, 15 months later, has left the previously healthy teenager nearly completely paralyzed.
[Nov 2007] Did Gardasil Vaccine Cause a 12-yr-old Girl's Paralysis Christina Bell says she had seen ads for the vaccine so after consulting with her doctor she agreed to have her 12-year-old daughter, Brittany vaccinated. Two months ago the Florida girl suddenly collapsed. Her mother says Brittany used to play softball and run cross country. Now she can't feel her legs.
[Nov 2007 Gardasil] Teen falls ill after vaccine injection
[Oct 2007] EIGHT DEATHS LINKED TO LABOUR'S NEW SEX JAB FOR SCHOOLGIRLS
[May 2007] Judicial Watch Uncovers Three Deaths Relating to HPV Vaccine
[May 2007 AVN] Gardasil reactions must be taken seriously
[May 2007 AUS] Vaccine linked to sickness
[May 2007] Family claims cervical-cancer vaccine caused paralysis
[Dec 6, 2007] FDA: 28 Miscarriages No Reason to Reexamine Gardasil
[Dec 2007 AUS] Hundreds get sick from Gardasil cancer vaccine
[April 2008] Gardasil And Tetanus Shots Leave Girl Paralysed