[vid] Michael Tellinger's presentation of the annunaki and more! MUST WATCH! Michael Tellinger


President Muammar Gaddafi, Libya, Oct 2011


President Malam Bacai, Guinea-Bissau, Jan 2012
President Bingu wa Mutharika, Malawi, April 2012
President John Atta Mills, Ghana, July 2012
President Meles Zenavi, Ethiopia, August 2012
[2015 June vid] "Gavi And Unicef Force Africa To Pay For Mass Vaccination Then Use Vaccines Rejected by CDC"
[vid Alcoa, Africa] How the Rich Keep us Poor
[vid 2009] Zimbabwe's Blood Diamond Killing Fields
HowTheRichKeepUsPoor.com "What's Going On" With a GDP ranking of 182 out of 195 international countries and 55.2% of the population living below the poverty line, Guinea is one of the poorest countries in the world. This is shocking considering Guinea is the world's largest producer of bauxite with half of the world's reserves in its land.
Over the past 50 years, one lone mining conglomerate in Guinea, CBG, has produced and exported approximately $400 billion USD worth of bauxite. Shockingly, Guinea's share of that wealth has been limited to a mere $5 billion USD.
Through its joint-venture mining deal with the country, CBG established itself as the largest bauxite mine in West Africa, and is now 49% owned by the Guinean state and 51% by a consortium composed of ALCOA (American), RIO TINTO (Anglo-Australian) and DADCO (SWISS).
One of the provisions put in place in order to benefit economically from the venture, gave the Guinean government the right to choose its own company to transport 50% of all bauxite cargos mined by CBG.
On August 12, 2011, the government of Guinea authorized NANKO Shipping (owned and operated by a Guinean national who has over 30 years of experience shipping cargo for public and private sector companies all over the world) to execute the government's shipping rights. To date, NANKO has yet to ship a single cargo load because CBG has refused to honor the terms of the agreement. Their resistance is surprising given that this would cost them less than 0.05% of the value of the aluminum produced from its bauxite mines.
Resource rich countries continue to be deprived of a share in the wealth that they create, which takes away from the country's ability to assign resources to its people. This is why the life expectancy in Guinea is 54.1 years old, the literacy rate is 41% and only 1 out of 5 households have access to electricity. This is also part of the reason why Guinea lacks the resources to handle the current Ebola crisis, which originated in its forest regions and has spreads across West Africa.
The overall issue is not unique to Guinea alone, but a common theme across the African continent as a whole. Over the last 30 years, the continent has lost out on more than $1 trillion as a result of similar situations.
Today, NANKO Shipping is suing Alcoa, which manages the day-to-day operations of the CBG, for refusing to honor its terms of the mining deal. According to Reuters, if NANKO's lawsuit were successful, it would mark the beginning of African nations taking control of their natural resources from international companies.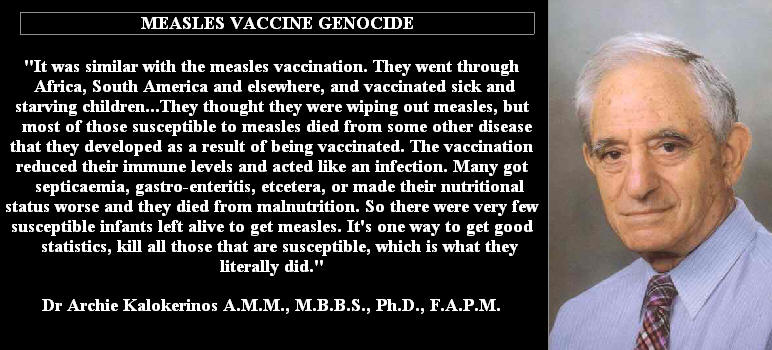 Archie Kalokerinos M.D Vaccine genocide
Boko Haram: US AFRICOM'S Latest False Flag Franchise
[2013] African Nodding Disease is Actually Vaccine-Induced Absence Seizures
[2013 April] British peer reveals MI6 role in Lumumba killing
[2013 Jan] The invasion of Africa has almost nothing to do with "Islamism", and almost everything to do with the acquisition of resources By John Pilger
Kony 2012: Wrapping Imperialiam in "Activism"
[2012 March] African ping pong: US plays both sides in Uganda By Richard Cottrell The Lord's Resistance Army (LRA) rampaging around Uganda is nothing more than a US and Mossad-backed guerilla force. Its task is to destabilize wide areas of Africa rich in minerals like Uganda, ex-French and Belgian Congo, and Sudan. Joseph Kony.....the new US terrorist poster boy, has been on the CIA's books for years. The LRA's mass abductions, industrial scale rape and pillage, and kidnapping of children who are turned into monster killers, bear every sign of a CIA MK-Ultra derived programmer to create robotic "no questions asked" terrorists. Hundreds if not thousands of these ghastly indoctrinated children, trained to kill and maim without pity, have been sent north to stiffen anti-government guerilla forces in Sudan and Somalia.....He provides the perfect excuse to invade Uganda on the pretext of inciting another humanitarian mission.